Proportional control TRIGGOMAT C2
The TRIGGOMAT C2 controls the drive motor of a metering pump. While automatically operated the pump drive is controlled proportionally to the analogue input signal. The TRIGGOMAT C2 fits to all dosing pumps of the FKM and FKMU series with drive gears A0 and B0 and a maximum dosing output of 480 l/h (FKM) respectively 28 l/h (FKMU).
Due to its compact design the TRIGGOMAT C2 can be installed directly onto the drive motor. The TRIGGOMAT C2 is also available as a separate unit for wall mounting. The pump can be controlled via an external enable signal. Operation and breakdown signals, as well as the operating mode are displayed via LEDs. The H-O-A selector enables selection of the operating mode (manual or automatic).
TECHNICAL SPECIFICATIONS:
Control signal: 0-10V, 0(4)-20mA
Output load: max. 3 A
Voltage: 230 V, 50/60 Hz
Protection class: IP 65
Weight: 2 kg
Power supply via cable with two-pole plug

 Information sheet TRIGGOMAT C2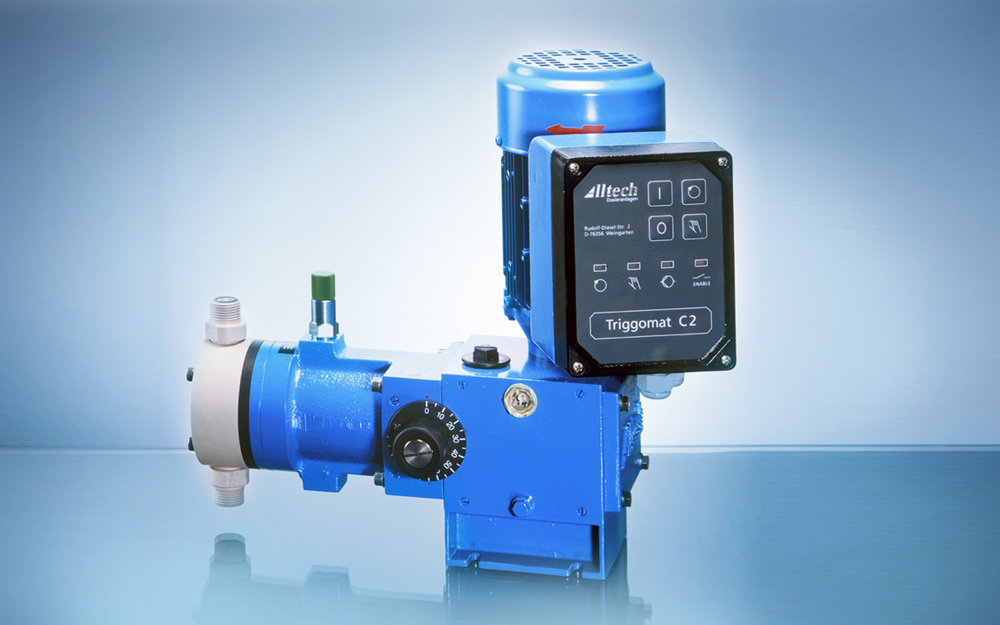 Proportional controller TRIGGOMAT C2